VKF Renzel provides a small selection of retractable banner stands and non-retractable banner stands.

Poster Holder "Poster Snap" and Poster Holder "Secure" are without a doubt the two bestsellers. Both Poster Holders are made of high quality anodized aluminum and therefore very sturdy.
For heavy banners you might want to consider the Banner Hanger "Easy". This banner holder is also made of anodized aluminum. The profiles are a little bigger with more grip power so the banner won't slide out.
VKF Renzel's Poster Holder "Poster Snap" is the perfect way to display posters, signs, card stock, advertisements and even thin vinyl in your store. With two clips this sign rail can be installed in any store window, from the ceiling or even at the wall. The satin anodized finished gives the Poster Hanger "Poster Snap" an high end look and is perfect for displaying posters in any retail or business environment.

The Poster Snap utilizes the same spring technology as used in Poster Snap Frames. The poster hanger consists of 2 profiles which can be opened and closed easily and hold your media in place. The top profile includes two plastic clips for the Poster Snap to be hung at your favorite location. These clips can be adjusted to meet your installation requirements.The bottom poster rail keeps your graphic flush and taut.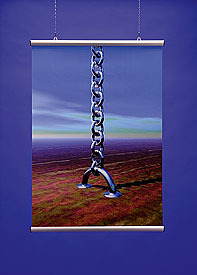 You are looking for a custom size Poster Hanger "Poster Snap"? We can cut any length up to 96" in house in no time. Please contact our sales representatives, toll free at 866-736-9351 to get your instant Poster Hanger quote. We usually ship stock lengths the same day when ordered until 2 pm Central Time and custom sized Poster Snaps within 24 hours, depending on quantities.

As the manufacturer of hanging displays we are able to integrate the poster hanger "Poster Snap" into other displays like the Poster & Banner Display "Snap", the Snap Como and the L-Display Poster Snap. Have a look and get in touch with any questions you might have.

Need a banner hanger for hemmed banners? Check out our Banner Holder "Big" or Banner Hanger "Rod". Both are exceptional banner hangers for hemmed banners.